May 1, 2013,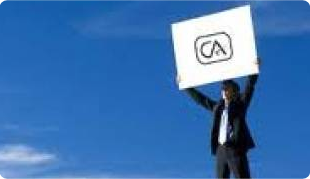 Chartered accountancy is a professional degree course which offers huge scope for the aspirants. After becoming a CA, a person can choose to either be employed with a firm as an employee or they can choose to open their own private practice.
Before discussing the scope of chartered accountant career, let us look into the various reasons for why CA is a good career option –
This professional degree course gives you flexibility to go for higher education like MBA, CFA etc.
There is no constraint on study hours – that is, you do not have to go to college to study and you can control the pace of your study.
Articleship is a mandatory part of the curriculum, and as such, it gives you practical experience while doing articleship. An aspirant can choose the organization they want to work with.
Most of the CA's end up being entrepreneurs. They are their own boss. CA's can choose to become tax advisers and consultants also.
Maintaining continuity in career is easier for a Chartered Accountant, as they can afford to take breaks and sabbaticals and make a comeback after little brushing up of knowledge.
Now, considering the various benefits of becoming a CA, it is a common understanding that many students would want to pursue this career path. In fact, if statistics are to go by, then in any given year, there are over 1 lakh students who appear for the ICAI exams (source: The Hindu). However, the pass percentage for these exams is abysmally low. This, however, should not be a deterrent for the large number of CA aspirants. Many students don't take the CA exam too seriously, that is why there is less pass percentage. If you study seriously, you can easily pass the exams.
Scope of a chartered accountant career
CA's can choose to set up their own independent practice and develop their clients on merit.
They can apply for job at an existing firm of Chartered Accountants.
They can offer their services in the field of capital market.
A qualified Chartered Accountant can join the Government Service, Public Sector or even in the Private Sector.
Institute of CA of India is also well recognized abroad like in England, Wales and Australia so one can even practice in these countries as well.
It is not necessary that a CA has to work only on number crunching and excel sheets. A CA employed with a firm can also contribute towards decision making and enhancement of profits for the firm.
As per a report by the Economic Times, there is a huge demand for CA's in the manufacturing and financial services sectors (source: The Economic Times)
CA is emerging as a good career option for women as it allows work to be done at one's own pace and time, and, also allows one to control the money flow. Besides, a CA is free to take break in his / her profession (as stated earlier).
According to TN Manoharan, former ICAI president, for 50 years till 1999, the number of women CA's in country was 8%. In the past decade, the numbers grew phenomenally, and women constituted 16% of the nearly 1,70,000 CAs in India. "The major push came from parents, who earlier discouraged daughters from private practice. More private companies and MNCs are hiring CAs and early entry through CPT, post-class 12, have allowed them to complete their CA before their parents get them married," says Manoharan.
As such, before stepping into the career of a CA, it is very crucial that you ask yourself the following questions -
Find out what's your RIGHT Career!