May 1, 2013,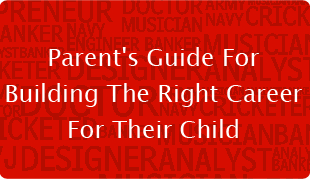 Being in the field of career advisory, we remain flooded with queries from concerned parents regarding their child's career. Well, it is very natural for any parent to be thinking about their child's future when the child reaches early adolescence; but it does surprise us when the advice seekers are parents of kids as young as 6 to 8 years.
Yes, it seems the future anxieties make the present-day parents to start planning for their child's careers from quite an early age. While the career advisory for an adolescent (child above the age of 14 years) is very clearly a function of the Inherent Strength profile (Aptitude – Personality – Interest) of the child, however giving course / career advice to parents of an 8 year old is a bit tricky. Nevertheless, here's a roadmap for such parents -
As parents, the most important thing that we must remember is that we – the parents, are the greatest influence that our children have. In our own experience of counseling thousands of students, we have found that more than 80% students see their parent as their career idols. So it all begins at home and can begin as early as you want. You are the role model for your kids and they watch you 24x7, how you behave has a big influence on them.
Giving your children a healthy home environment for their personalities to develop, is the first step towards the same. When your children are very young, begin by encouraging various options and introduce them to many role models. Encourage them to imagine and don't put limitations. In the pre-teens, provide your child a positive role model and encourage them a lot. Children learn by example and by doing things themselves, so one should set good example and give them opportunity to do things, make mistakes and learn from them.
We also believe that home can prepare students for future work place. While many of us think that by freeing the children of their home responsibilities, we are helping them, whereas actually we are keeping them away from learning important work skills. Even involvements in a mundane activity like peeling vegetables can help improve coordination and give exposure to certain aptitudes. Involve your children in planning for parties, monthly grocery management and routine chores but take care that this doesn't get overdone as it should not hamper the academic schedule.
Generally, the off days and vacations can be best utilized for the said purposes. Your active support and involvement in school activities will also help them learn. Communicate well with them and while communicating remain consistent. We often tend to comment / praise the person, this is not correct, we should praise the "ability" and the "behavior". It is only by the age of 14 that the in-born Aptitudes get concretized in your child. It is only when your child has entered senior classes in school that you should go for formal activities and encourage interactions towards development of certain career interests.
You can help them explore various career options by introducing them to friends and other people from different professions, encouraging them to do volunteer work for different organization and in vacations let them learn new skills or work part time. You should discuss career choices with them and help them learn useful life skills, like prioritizing and dividing their time into different activities like the school work, academic work, leisure and recreation time etc. Never say a big NO to their idea of career but discuss, explore and help them know about the pros and cons.
Some parents tend to believe that their child hardly knows anything about life or its choices and it is the parents who know the best for them. Of course, you know them more than anyone else. You also have a fair idea about their career interests and also want them to be successful but forcing your own ideas or thoughts down their throat is not going to help. Similarly, the notion that children should be left alone and they should find their own way is also flawed. Rather, encourage them and get involved in career planning with them. Go for good career assessment to find their Aptitudes, Personality and Interests and explore various career options before zeroing in on any one. Do remember to encourage your child to choose the best education possible and to go for higher studies for better career prospects.
MapMyTalent offers expert career guidance and career advice for helping students build the right career path. This is done through a comprehensive Aptitude Test and Personality Test which has been scientifically developed by expert career counselors.
Find out what's your RIGHT Career!