June 26, 2013,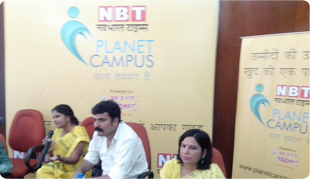 Delhi University admissions are on and the confusion with courses and cut offs is also heating up. Last two weekends the MapMyTalent team was part of the panel for career counseling of students who are aspiring for various courses in Delhi University. We were flooded with queries from the parents and students. Year after year the nature of queries has not changed much. Although there were many queries due to the newly introduced 4 years Bachelors program at Delhi University. Some of frequently asked questions asked were, "Can I make it to college A or college B of Delhi University for a particular course?" etc.
No doubt some of the DU colleges have done very well in past and have gained positions in the list of Top colleges in India in various disciplines, but in our own experience it really should not matter much! If you study form these colleges may be you will get preference in the first job but is your goal to secure first job or having a series of good jobs which match with your strengths, qualifications and preferences?
The answer is obvious; all the colleges in Delhi University offer the same degree, they all have the best teachers, they all teach the same syllabus and the list can go on and on. So rather than being overly concerned about the best college we should be concerned about the right course. Because ultimately, it is the course that will become the foundation of your career! And it is on the basis of this course that you can choose your PG course and get jobs. So choice of course that compliments your aptitudes and personality is the key to a successful career.
Another question that is frequently asked in the QnA sessions is the comparison of B.Com course with the BMS (BBA/BBS) course and which one should be chosen, or which one is better. Let us use this opportunity to put it out for all the aspiring parents and students that B.Com is a more versatile course and during the course one is prepared for careers in finance and accounting and many commerce related subjects are taught. After finishing this course, one has the option of choosing from many other courses from diverse fields like commerce, finance, business management etc.
On the other hand BMS is a professional course and prepares a student for careers in the field of business management in various specialization areas like marketing, finance, human resource etc. Now whether one should choose B.Com or BMS depends on two main aspects - what are the strengths of that person (aptitudes and personality) and what is the overall career goal of that person and how these courses fit in that "Big Picture".
If you are very sure you want to manage people, finance or markets and products then you should choose BMS but If you want to keep flexibility in future career options then perhaps you should choose B.Com (provided that your aptitudes and personality match the chosen course).
Ultimately, it should all begin with a proper planning as to where one would like to be and then analyzing the pros and cons of various courses and how well they fit with the overall career plan. Like somebody had very beautifully put "If you do not know where you want to go and you take any road it really does not matter, you will reach somewhere."
You need to ask yourself, you want to reach somewhere or just wander into empty space?
One sure shot way to know one's aptitude and personality and one's correct career path is through the MapMyTalent aptitude test and personality test. Take this comprehensive psychometric assessment and get a clear understanding about your own strengths and weaknesses, and also get expert career counseling to build the steps for your career planning.