October 25, 2013,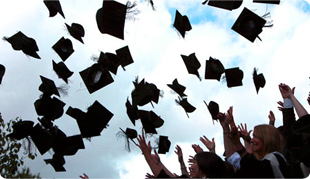 Completing graduation is achieving another milestone in your life. From here onward, (where did the teenage years go?), you will be looking at embarking on a full-fledged career or further specializing in your chosen field of study.
It is a major crossroad in life and at this juncture it is a good idea to pause and review one's career decision.
It may so happen that you are absolutely sure of what you are doing and are raring to get into the job market. Good for you!
It may also happen that you may want to study ahead. Great!
It may be the case that you are unsure about what you have done and what you want to do. All the more better! Surprised?
I say all the more better because it is great that you are having these doubts right at the beginning of your career. It is much better to realize one's mistakes now and take corrective steps rather than spending half/even the entire of your career mired in self-doubt and frustration.
There are many fancy jobs and courses out there in the market which promise tonnes of money. But you do not need to believe those promises if you believe in yourself! Fancy words? No, they are words of wisdom.
For an individual who knows his/her aptitude, skills and interests thoroughly, the job that s/he takes up on the basis of these will be one that automatically transforms into a well-paying and satisfactory career. (And I will use this opportunity to once again say that if you wish to know your aptitude, then you must take an online aptitude test; and if you wish to know what your personality is, then you must take an online personality test.)
There are two options for those who are unsure – believe the fancy promises or choose the road to self-discovery.
If you choose to walk the road of self-discovery, are you to tread alone on this path? No. Enter the career experts – career counselors!
Career counselors will help you understand your strengths, abilities, skills and interests and help choose a career path that best matches them. Choosing a course and/a job after that is fairly simple and will lead to a rewarding career ahead, both financially and work-wise.
Here are some options that you may consider doing after graduation. Please note that these are only some general suggestions. You will have to exercise discretion and choose an option that best suits you and your present situation in life:
Experience work life:
It is always a good idea to work for a while in your chosen field. It helps one face the truth about work life pressures, forging and maintaining work relationships and much more. It will also help you consolidate which area within your field of work would you like to focus on and do a post-graduation accordingly.
Invest in professional courses
In today's world of severe competition, how does one stand out in a crowd. Even if you may be in the right field with the right skills, it takes hardly any time for knowledge to become obsolete with advancement in technology. It is therefore wise to look at doing professional certifications/diplomas that will help you progress in your career.
Here again, you may choose to do a full-time course or pursue a part-time course along with working or work for a while and take a break to do the course.
Irrespective, a professional course is an added bonus. In fact, it is a good idea to keep upgrading one's knowledge base all through one's career to stay on top of things.
Do a post-graduation
Doing a post-graduation in your chosen field is always a good idea. While a Bachelor's degree introduces one to the general principles of a domain, a Masters degree helps one gain expertise and specialization in focused area within the domain. If your situation is such that you are able to invest time and money in a post-graduation, immediately after graduation, then go full steam ahead!
Prepare for Government job/armed forces entrances/bank examinations
Even while pursuing any one of the above mentioned options, you can still choose to prepare for civil services/armed forces/banks.
Let me re-iterate, whatever you choose to do must be based on a thorough understanding of your abilities, interests and skills and depending on your present situation, economic and otherwise.
Find out what's your RIGHT Career!