September 23, 2013,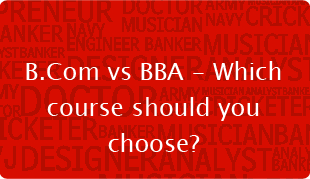 In India, students generally do not devote much time to think and decide before taking admission in a course. Mostly, they go by the elimination method, that is, they eliminate the things they think they are not good at or those subjects that they hate. For many students, subjects like science, maths and humanities are all crossed off the list instantly. The reason given by the students for this elimination are mostly irrelevant to the decision making process. They feel they may not have time for fun if they take serious subjects or some careers do not lead to earning great money etc. As far as commerce stream in class 11th and class 12th goes, the priority lies in getting into a job quickly and earning a lot of money. Commerce students feel that they should take up such a course that can actually help them make a career easily. This is why BBA tops the list for many students.
It is a common knowledge that earning a bachelor's degree is a pretty good career move and often the minimum requirement for getting a job. Although in many cases, this is correct, for many careers it is misleading. But planning does make sense and most students with robust planning get into the apt career path which ultimately leads to good prospects. Thus, it is essential to ask why one is taking the course and what career prospect it is leading to. And the key is to know the capacity or potential or aptitude one has which would help them to learn best and do well in the career they are taking. To become successful in any career, you require certain skills. Before joining the "best" institute, you need to check that you will be getting training for those specific skills for becoming a successful management graduate.
Most of the students get into commerce stream with no understanding of what it involves. However, if management is the ultimate goal, though both BBA as well as B.Com will lead to MBA, but one needs to give it a serious thought as to what subject to graduate in even if the ultimate goal is MBA.
It is true that both BBA as well as B.Com lead to MBA. However, while B.Com can lead to a wide array of post graduate specializations, a BBA degree on the other hand, can only lead to MBA.
But this does not mean that one should only go for B.Com and not BBA. The smart people take an aptitude test while in school, gather information about both the courses, plan their career path, and then take the decision confidently.
Why we call them smart, let's discuss the nitty-gritty.
The Bachelor of Commerce is designed to enhance the ability to learn as the students study variety of subjects: Accountancy, Business Administration, Finance, Economics and Industrial Policies. This course equips one with the analytical, communication and problem-solving skills to effectively identify issues, source information and to find efficient and practical solutions.
After B.Com the students can avail exciting and diverse post graduate opportunities like MBA, LAW, International studies, Designing/Merchandising, MBE, M. Com, Finance, Economics etc which will set them apart from the crowd and prepare them for success in the global marketplace. The industry takes them at par with the students having professional degree like BBA, Hotel Management etc and sometimes at higher platform if someone is from reputed college. All most all universities and colleges in India offer B.Com degree, therefore, chances of getting into the course is higher.
Bachelor of Business Administration, on the other hand, is a professional course, and it is offered at few universities and of these, only a handful of colleges / institutes offer quality course. Choosing the right institute is key to landing up in a good job. The BBA course is tailored in consultation with representatives from leading organisations, ensuring that you graduate with an industry-relevant degree. Students get practical experience, read assigned materials, attend seminars, and prepare an internship report. Students are encouraged to attend leadership training workshops and conferences; including, but not limited to, public speaking, group dynamics, and problem solving, and evaluating techniques. These skills not only help to fetch a good job, but also, the students remain at an edge over others while studying MBA. However, all this happens only when the students get into a reputed college.
After BBA the students can get into Marketing, Human Resource, General Management, and Finance etc. This course, however, restricts the students from other postgraduate study opportunities.
If you are very sure that your aptitude matches to the management study only, your only goal is to get into management career, then BBA would be the best choice for you. If you wish to learn variety of skills as well as course during bachelor degree, wish to avail various post graduate opportunities besides MBA, interested in learning finance and factors that drive economic behavior at both an individual and organisational level, then B.Com would be a wise decision.
However, if you decide a career based solely on your "wish", and on your "strengths", then you increase the chances of leading a miserable and stressed life. Career decisions must always be made keeping in mind one's aptitude, personality as well as interests. To know this clearly, one can take career tests or aptitude test and personality test and get career guidance from expert career counselors to build the right career path.
Find out what's your RIGHT Career!