November 29, 2013,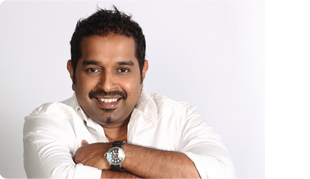 Enthralling, spellbinding, fabulous, melodious. These are perhaps a few adjectives that come to mind when one thinks of music director-composer-singer Shankar Mahadevan.
He needs no introduction as all of you have grown up on his songs, from his most popular number of the initial days, Breathless (album), more classical renditions like Albela Sajan (Hum Dil De Chuke Sanam), funky Pretty Woman (Kal Ho Na Ho) to his metamorphosis as a music director-composer along with his buddies Ehsaan and Loy. Their most recent success has been Bhaag Milkha Bhaag
It is interesting to know that we very narrowly missed all of Shankar Mahadevan's voice and all of his wonderful music. While trained in classical music since childhood, Mahadevan studied to become a software programmer and even briefly went to work for the software industry before leaving it to answer his true calling.
In an interview, his wife Sangeeta Mahadevan mentioned that just six or seven months before their marriage Shankar quit his job to pursue "his passion". And boy has it paid off!
Imagine if he hadn't been trained in classical music since childhood, what if he and his family had considered singing as a hobby and not something that needed investment in terms of training and time. What if he had ignored his passion and continued on as a software engineer, afraid to make the switch?
How many such Shankar Mahadevans have we lost to the wrong career choices?
How many people out there are unhappy in their present careers, clearly wanting to do something else but not knowing what, people who were not nudged in the right direction at the appropriate time? Hordes.
Not all of us are as lucky as Shankar Mahadevan. While he had a solid foundation and grounding in his passion – music, that saw him through and continues to do so, many of us fail to capitalize on our aptitude not recognizing it as something worthwhile to be pursued.
In such a scenario, even if we know we may be stuck in the wrong career, we do not even possess the skills and the confidence to change over because it would mean going back to the drawing board and a bad beating for the ego.
But it isn't as bleak a situation as I may be sounding here. All it needs is some sound advice in the proper direction based on a nuanced understanding of your aptitude and strengths.
Who can offer this advice? Career counselors - professionals who are trained to scientifically assess and understand people's aptitude and offer them advice on possible career options to choose from.
It is obvious that the earlier one seeks career counseling; the sooner one is able to make the right choices and streamline one's career – ideally by the end of secondary/high school.
That, however, does not mean that those who may not have done so have no options left.
It is always a good idea to seek career counseling at any point of time in one's career, if you find yourself having doubts. The very fact that you find something amiss and would like to address it is positive enough.
So, if you haven't made up your mind yet on what is it that you want to do ahead or are having even the slightest of doubts, do not hesitate to find a career counselor and seek advice. In fact, even if you have made up your mind on what you want to do, it is still a good idea to get it reinforced by a career counselor.
References:
Sangeeta Mahadevan's interview to Sathya Saran
General information on Shankar Mahadevan
Find out what's your RIGHT Career!