April 14, 2014,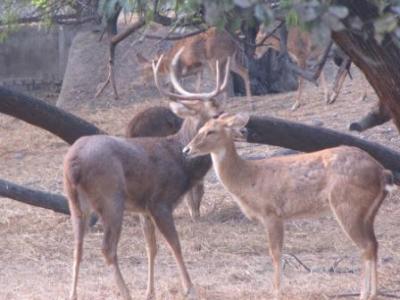 If you passionate about the rich wildlife of India and want to work for its conservation there are some  courses that you can do and contribute to this cause by opting for a career in wildlife biology and conservation.
Here are some of the good courses offered by Top Colleges of India
Wildlife Institute of India in Dehradun (which is affiliated to Saurashtra University) offers training programs, academic courses and advisory in wildlife research and management. This M.Sc. course seeks to meet the increasing demand for research and monitoring or wildlife and their habitat and provides trained wildlife biologists and conservationist. The admission is based on entrance test which covers GK, General science, Life sciences, Forestry, Agriculture science, veterinary science etc. The course is open for science graduates and graduates in Life sciences, forestry, Agriculture and veterinary.
Wildlife Institute of India also offers post graduate diploma in advanced wildlife management. The course is open for in service Indian Forest Service and State Forest Service officers.
Another such good course is offered by National Centre of Biological sciences which is a constituent of Tata Institute of fundamental research. The institute offers M.Sc in Wildlife Biology and Conservation. The course is open for graduates in any discipline and is offered once in 2 years. To make the students efficient conservation scientists, the program imparts technical skills, communication and problem-solving skills as well as exposure to relevant social, political and economic issues that impact wildlife conservation which lie at the heart of the conservation process.
This course is collaboration between the National Centre for Biological Sciences (NCBS) and the Centre for Wildlife Studies (CWS), with the degree being awarded by TIFR.
The course gives the students exposure in diversity and distribution and biology of plant and animal life, ecology, conservation ecology etc. The course also exposes students to the historic, social and economic framework within which conservation needs to be done and in the final semester the students work on a project.
Central University of Odisha, Koraput Offers M Sc in Biodeiversity and Conservation of Natural Resources 
The University of Kota, Rajasthan also offers a PG program in wild life sciences. The two-year course in Wildlife Science at the University of Kota, not only seeks to meet the increasing demand for research and monitoring of wildlife and their habitats, but  provide trained biologists to further the cause of wildlife conservation and also serve as a model for developing higher education elsewhere in the country.
Graduates in Botany/ zoology/ agriculture/biotechnology/nursing/forestry/veterinary or equivalent science degree are eligible to apply.
Career in wildlife biology and options for students:
The students after completing the post graduate course in wild life sciences and related courses work with research labs, central and state natural resource agencies, conservation groups, forest industries, forest research institutes , wildlife research institutes, zoological parks, sanctuaries and with private consulting companies. They can also work in government services and also in agencies that provide healthy habitat to the animals in artificial environment.
There is huge demand for wildlife biologists and wonderful career in wildlife conservation awaits the trained and motivated….  
Find out whether you have the aptitude and personality for this career !!